Creating Change, Together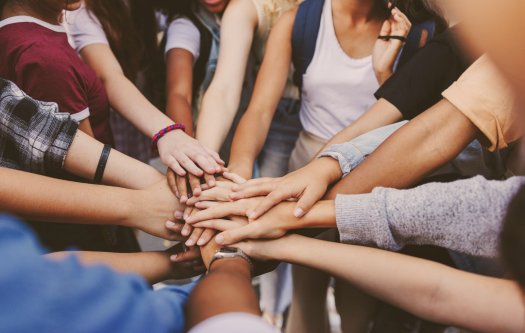 TAMMIRA is a community-driven platform focused on doing well while doing good. Through impact investors and purpose-driven partnerships, socially-conscious corporations, non-profit organizations, non-government organizations, sponsors, foundations and donors who champion mental health and wellness, we can generate profit with purpose to create a bigger social impact.
Teens Are Facing a Mental Health Crisis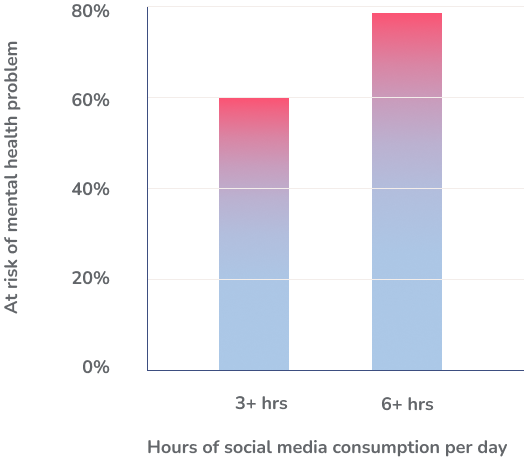 Source: Inverse
In today's social media-driven world, it's easy for people to compare themselves to others and develop unhealthy habits in an attempt to meet unrealistic societal beauty, body, and lifestyle standards.

At TAMMIRA, we're working to change that through an encouraging and emotionally-supportive community, socially-conscious partnerships, and authentic connections for all.
Bar graph is displaying that teens who spend hours on social media each day are at higher risk for mental health issues than teens who do not use social media.
Our Causes: A New Approach
At TAMMIRA, we believe that we thrive when we have an aligned north star. That's why we partner with nonprofits and non-government organizations to support and advance causes that make a bigger impact together. As more organizations join forces, we have the opportunity to create new grant funding channels, while reducing redundancy and overall costs so nonprofits can spend more time serving their cause.

Our unique platform allows partner organizations to offer live, scheduled, and on-demand educational sessions; interactive peer support; and in-app fundraising opportunities—all while promoting brand awareness and strengthening connections with beneficiaries.

Plus, our network of Student Ambassadors enables organizations to match and meet with like-minded volunteers and mentors, virtually.


Mental Health & Wellness
Mental Health & Wellness
We help youth-centric organizations by providing their beneficiaries a free, accessible, and safe mobile app platform. Nonprofits can optimize their mental wellness programming–destigmatizing and reducing the damage of prevalent mental health stressors, like bullying, eating disorders, and body dysmorphia, all virtually.
Under-Resourced Communities
Under-Resourced Communities
We increase nonprofits' capacity to aid beneficiaries in overcoming economic equality—particularly women and people of color. Through our supportive virtual platform, wellness and beauty creators can monetize their skills with no upfront costs or high barriers to entry.
LGBTQIA+
LGBTQIA+
We support LGBTQIA+ organizations through community building, education, and resources to drive inclusivity and acceptance for all. We assist nonprofits in raising awareness on life-saving topics, discovering fresh avenues for funding, and develop innovative methods that increase their impact.
We're excited to find new partners who think out of the box about how to effectively serve the youth and help them lead happier, healthier lives. If you'd like to collaborate and discuss about how we can support with, sponsorships, donations, and/or learn more about our journey toward improved mental health and economic equality, we'd love to hear from you. 

For more information, or to set up an impactful partnership consultation call and discuss opportunities, please email Staci Dao at staci@tammira.com.